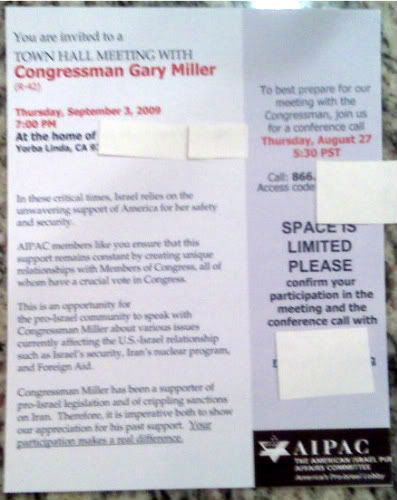 I need your input here. I have been invited to a town hall meeting with my congressman, Gary Miller (R-CA), to be held at a neighbor's home. I was invited through AIPAC (American Israel Public Affairs Committee), probably because I went to an AIPAC fundraiser luncheon this past year. It was my first one, and it was interesting to see the parade of politicians getting a turn at the podium and all saying pretty much the same thing. Yes, we support Israel. Yes, we love AIPAC. Some of their statements were met with approval, and some were met with grumbling, if the statements were at odds with their past voting record.
I need your help figuring out what questions to ask Congressman Miller, should I get the chance. Or what ideas I should pass along to him. He is already against Obamacare, so I could compliment him for his stance on that. What about U.S/Israel relations. Do you have any ideas about that? How to handle Iran?
Then I need to figure out what to wear. I'm thinking probably a Palin-style skirt suit.