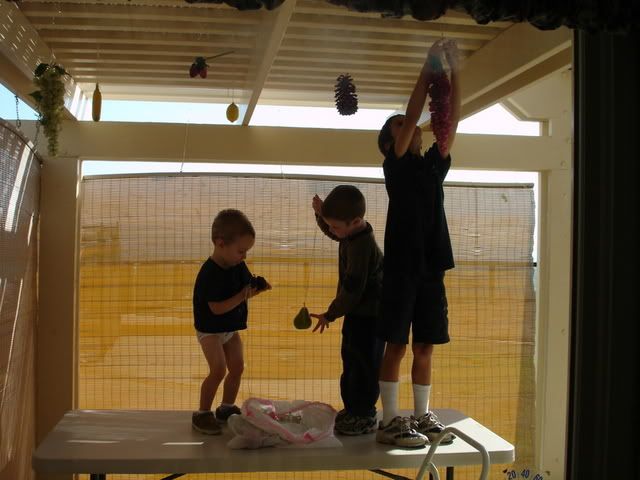 Did you know that we are in the middle of another Jewish holiday right now? It is called Sukkot. As Jewish people we eat our meals and sometimes even sleep outside in "booths" called a Sukkah. It commemorates a time long ago when there was so much work to do at harvest time, the farmers would actually live in the fields in booths until the work was done. It also commemorates the 40 years of wandering in the wilderness, when the Hebrews lived in fragile booths and didn't have real homes.
The boys were so excited to see the walls and roof of the Sukkah up. They were even more excited when I told them that they were old enough to decorate the Sukkah themselves. It is traditional to hang fruits/vegetables from the ceiling. We use plastic fruits/veggies from Michael's Crafts. And we like to also hang twinkly lights. It is very pretty out there eating our meals under the lights.
Here is a picture of my crew in the middle of decorating. I took the pic through the kitchen window.